The Government of India has notified Anantapur and Cuddapah districts of Andhra Pradesh as Banana Clusters under the Agri Export Policy-2018. In this context, we have analyzed all the aspects related to agriculture cluster in India in its entirety.
Key points related to Banana Cluster:
The Government of Andhra Pradesh, the Exporting Company and the Agricultural and Processed Food Products Export Development Authority will work together in this initiative.
Apart from providing expertise and modern technology to the banana growers of Andhra Pradesh, they are being specially trained by the exporter company to increase the banana production.
Agricultural and Processed Food Products Export Development Authority (APEDA):
It was established by the Government of India under the Agricultural and Processed Food Products Export Development Authority Act, 1985 in place of the Processed Food Export Promotion Council.
It functions under the Ministry of Commerce and Industry.
The headquarter of this authority is at New Delhi.
According to Bosworth and Brun, "a geographical feature of industries that gain more profit through location-specific conditions" is called a cluster. A cluster consists of a range of industries and other entities that include related industry components, machinery, services and specialized infrastructure. The cluster establishes an integrated approach between customers, companies as well as industry specific skills and technologies through frequent channels.
Cluster Based Agriculture:
The greatest potential for sustainable development in developing countries lies in the agriculture sector. Here poverty is widespread and present in poor form and farmers do agriculture on a small scale in limited areas. These farmers in developing countries are surrounded by a "Cycle of Equilibrium" of low margins, characterized by low productivity, low market orientation due to limited capacity and low investment. This cycle can be broken only through long-term competition.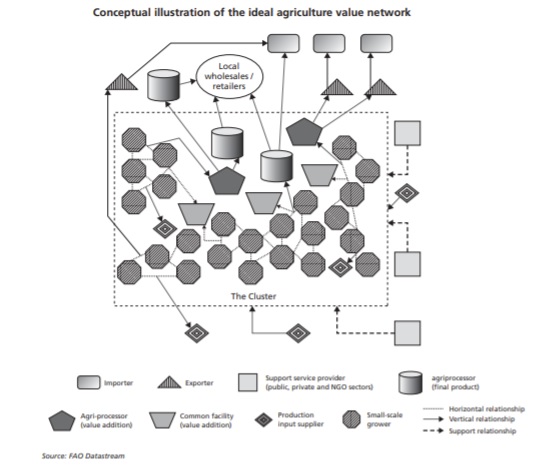 Agriculture Clusters in India:
India is one of the vast countries with geographical, climatic and soil related diversity, that is why there is enough diversity in the agricultural nature of India. Different regions of India are ideal sites for the cultivation of a particular crop, for example Gujarat and Maharashtra have ideal cotton conditions. Similarly, there is local variation with respect to a particular crop, such as special conditions are found in Karnataka, Jharkhand and Assam for different varieties of coral. Species like Aman, Dew of paddy produce better in different agricultural areas.
After examining the earlier studies on the zoning of the agricultural economy in India, it was recommended by the Planning Commission that agro-planning policies should be formulated on the basis of agro-climatic zones. Similarly, for resource development, the country has been divided into fifteen agro-climatic zones on the basis of agro-climatic characteristics, especially temperature and rainfall including soil grade, climate and water resource availability.
Thus, given the agro-climatic diversity of India, there is ample potential for cluster based agriculture in India. It is in this context that the Food and Agriculture Organization has reviewed several characteristics related to clusters in Maharashtra, the reasons for their competitiveness or lack thereof.
Potential from this type of agriculture in India:
India has more agricultural area than those countries which produce more food grains, but due to lack of extensive agriculture in India, the expected level of production has not been achieved. The effect of Green Revolution has also been able to benefit only limited areas of India, in this context, there is immense potential for cluster based agriculture between the existing marginal and small holding agriculture sector in India.
Keeping in mind the ideal crop and its related fundamentals in different agricultural areas, better success can be achieved in the objectives of doubling the income of the farmers through special regulatory strategy.
Apart from this, in India, through forward and backward reforms such as local migration, employment and local business, by changing the agricultural concept of farmers related to food grains into commercial agriculture, economic development along with better solution to the problems of 50% of the population dependent on agriculture. Agriculture can play a relevant role as India is still a developing and agricultural country.
Agriculture in India is done on the basis of traditional approach to meet the food requirements. In which lack of skills, knowledge and new technologies is seen. Apart from this, there are common problems like lack of agricultural and crop related information before the farmers.
Still in India, factors like dedicated institutions, agricultural specific areas and research and the distance of farmers' access to the knowledge of these research have become a hindrance in the success of this sector.
This type of agriculture has been successfully used by the Food and Agriculture Organization in recent years in countries such as Chile and Argentina. As a result of this type of agriculture, there has been a better improvement in agricultural production and income of the farmers.
Dedicated research institutes related to various fields should be established in India, in addition to this, the required improvement should be done in the performance of the already established institutions. Courses and technical knowledge should also be disseminated on the basis of research of such institutions.
General and technical information should be disseminated through self-help groups (SHGs) and non-governmental organizations related to any area, apart from this, workshops should be organized in different areas.
Dedicated apps should also be made on area specific so that all types of information can be updated. Regular workshops should be conducted at the gram panchayat and local level for the activities related to the operation of this type of app.
By meeting other requirements like financial flow, infrastructure and awareness as well as market access, India can better use its labor force and population for its economic and human development.
Agriculture Export Policy- 2018:
The Agricultural Export Policy, 2018 aims to increase agricultural exports to over US$ 60 billion by the year 2022.
The Agriculture Export Policy will increase the country's share in global agricultural trade, while promoting exports of agricultural products such as tea, coffee and rice.
The recommendations made in the Agriculture Export Policy have been organized into two categories-
Strategic:

The strategic category would include the following measures:

• Policy Measures

• Infrastructure & Logistics Support

• Holistic Approach for Promotion of Exports

• Large participation of state governments in \agricultural exports

• Promotion of value added exports

• Marketing and Promotion of 'Brand India'

Operational:

The operations will include the following activities-

• Attracting private investment in production and processing

• Establishing strong rules

• Research & Development

• Diverse